Member Spotlight : Chris Chase, President and CEO at Discernity
Milestone member for over 14 years, Chris Chase shares his health & wellness journey here at Baptist Health/Milestone Wellness Center. He currently works with Personal Trainer, Miranda Merke, in our lap pool.
WHAT IS YOUR MAIN HEALTH & WELLNESS GOAL?: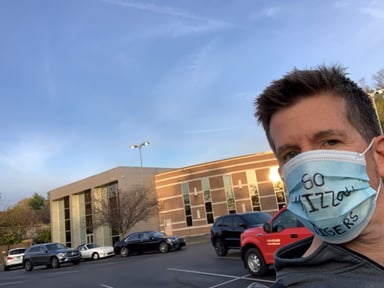 To look and feel solid. For me, that means a combination of strength, endurance, flexibility, and balance. Most years, I also set a performance goal. Three years ago Jennifer DeGrella helped me achieve a bench press goal I never thought possible. Robb Beyer helps me improve agility and strength through weekly workouts. In 2019, Miranda helped me beat a swim time in the 50-yard freestyle that I couldn't even attain with flippers the year before.
WHAT DO YOU LOVE ABOUT MILESTONE?:
Because the list is so long, I could write a book about why Milestone rocks! However, at the top of the list is the people. The class instructors and trainers are so welcoming; even the ones with whom I don't train. Connecting with the people at Milestone is ironic because I didn't speak to a soul during my first five years here and I was very content that way. However, I eventually took a TRX class and the group felt like a family. I eventually started yoga and that group also felt like a family. All of the trainers and instructors are so welcoming and the members in the classes become your friends
WHAT IS YOUR MOST MEMORABLE MOMENT AT MILESTONE?:
My most memorable moment was both the worst and the best. I dropped a 35 lb. kettlebell on my foot and broke it badly. But the help from the staff, follow up messages after my surgery, and prayers from so many people at Milestone will never be forgotten.
HOW LONG HAVE YOU BEEN A MEMBER AT MILESTONE?:
14 1/2 years
WHAT IS SOMETHING WE WOULD BE SURPRISED TO KNOW ABOUT YOU?:

I used to be the lead guitar player in a heavy metal band and thought I would eventually be a rock star.
WHAT IS ONE PIECE OF ADVICE YOU WOULD GIVE TO OTHERS GETTING STARTED ON THEIR FITNESS JOURNEY?:
I joined Milestone when I was 39. I was very out of shape and had a bad back from a car accident. However, I decided I was going into 40 like a lion and not a lamb. Having that reason to show up helped. So, find and remember why you are doing it. Social accountability can be also very motivating. The positive reinforcement of feeling welcome in a class or meeting with your trainer encourages you to show up on the days when your motivation isn't there.
WHAT ARE YOUR GUILT PLEASURES/INDULGENCES?:
Thursday night date night with my wife. We don't go anywhere, but order Chinese food, split a bottle of wine, and watch our favorite TV shows. It is my favorite time of the week.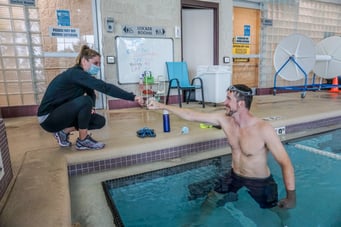 HOW HAS WORKING WITH MIRANDA ENHANCED YOUR WORKOUT ROUTINE?:
Before Miranda, I swam on my own and frequently felt injured afterward. I knew all of my strokes were broken and needed a lot of help. She sees every little detail and was able to tweak one thing at a time culminating in substantial improvement. In addition, swimming by yourself can be very boring. I don't have the imagination to vary my workouts. She provides a lot of forethought before each session to ensure our time is meaningful. No two sessions have been the same during the three years we have trained together. Finally, we work hard but have fun. Miranda has one of those rare gifts where she can inspire you to reach beyond your comfort zone but make it enjoyable.