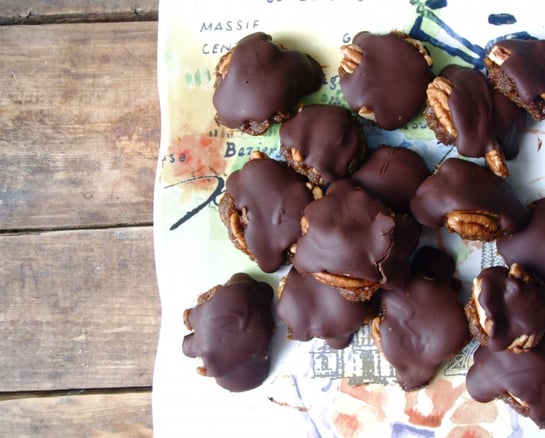 Clean eating doesn't have to mean bland, boring (or even gross) tasting foods. Nope! Good news: you won't have to sacrifice delicious flavor and impressive sweet treats in order to stick to clean eating and healthy throughout the holidays.
Whip up a batch or two of these delightful desserts for your holiday parties and not only will you impress your guests with the rich flavor, but you'll also feel guilt-free knowing how healthy the recipes are. Cheers to enjoying the extra sweets and celebrating the joy of the season with loved ones.
Dark Chocolate Turtles
Ingredients:
3½ ounces dark chocolate (at least 70% cocoa, preferably unsweetened or with unrefined sweetener)

1 cup pitted dates

2 ounces pecan halves
Instructions:
Process dates in a food processor until they become a sticky and very thick jam-like consistency.

Roll the processed dates into 15 small balls, place on a lightly greased cookie sheet.

Press 3 pecan halves into the date balls.

Heat a small saucepan over low heat, add in dark chocolate and slowly melt into a sauce.

Pour a small amount of sauce over each date/pecan ball.

Place in the fridge to set for at least 10 minutes, the chocolate will harden and hold everything together.
Nutritional Information:
Serving: 1 turtle

Calories: 80.9kcal

Fat: 5.3g

Carbohydrates: 9.8g

Sugar: 7.7g

Fiber: 0.8g

Protein: 0.9g
Recipe by: Nutritionist in the Kitch
Cranberry Lemon Cheesecake Bars
Ingredients:
Crust
1 1/2 cups pecans

2 tablespoons whole wheat flour

1/2 teaspoons cinnamon

1/4 teaspoons salt

2 tablespoons maple syrup or raw honey
Filling
18 ounces tub 2% cottage cheese

1 cup 2% Greek yogurt, plain

1/3 cup maple syrup or raw honey

2 eggs, large

2 teaspoons pure vanilla extract

2 tablespoons whole wheat flour
Topping
1/4 cup water

1/4 cup maple syrup or raw honey

2 cups fresh cranberries

1 tablespoon cornstarch

1 lemon, zest of (plus more for garnish)

1/2 lemon, juice of

1/2 teaspoon pure vanilla extract
Instructions:
Preheat oven to 350 degrees F and line 8x8 square baking dish with unbleached parchment paper, overhanging on the sides. Set aside.

To make crust: In a food processor, powerful blender or Magic Bullet, process pecans into fine crumbs. Transfer to a medium bowl along with flour, cinnamon, salt and stir to combine. Add maple syrup (honey) and mix well. Using your hands, press into prepared lined pan and set aside.

To make filling: Add the filling ingredients to a food processor or blender and process until smooth and creamy, for about 2 - 3 minutes. Pour over crust and bake for 60 minutes or until the cheesecake has set and edges are lightly browned.

In the meanwhile, prepare the topping: In a small saucepan, add water and maple syrup (honey), and bring to a boil. Add cranberries, lemon zest and juice, vanilla and cook on low for a few minutes or until a few cranberries have popped. Set aside.
Remove cheesecake from the oven, pour topping on top and garnish with lemon zest if desired. Let cool at room temperature for at least 30 minutes and then in the fridge for 2 hours. Lift the cheesecake out of the pan by holding the flaps and cut into 16 squares.
Nutritional Information:
Serving: 1 square

Calories: 166.8

Fat: 9.0 g

Cholesterol: 27.4 mg

Sodium: 156.6 mg

Carbohydrates: 15.9 g

Sugars: 11 g
Fiber: 1.7 g
Protein: 7.1 g
Sautéed Cinnamon Apples
Ingredients:
Organic Apple(s)

Coconut Oil (to coat the pan)

Cinnamon
Instructions:
Wash and chop apple into desired size.

Lightly coat pan with coconut oil, just enough to cover (less than 1/2 teaspoon).

Heat coconut oil in pan, once hot add apples.

Sprinkle apples with cinnamon and stir until desired texture is reached.
Nutritional Information:
Serving: 1 cup

Calories: 60

Fat: 1

Sodium: 0

Carbohydrates: 14

Sugars: 10

Protein: 0
Recipe by: He And She Eat Clean
No Bake Peanut Butter Pie
Ingredients:
Crust
1 cup walnuts or pecans

1 cup cashews

2 tablespoons agave, honey or maple syrup

3 - 4 tablespoons almond, rice or soy milk

2 teaspoons pure vanilla extract

1/4 teaspoon salt
Filling
1 cup organic peanut butter, unsalted (if using salted omit salt)

3 medium bananas, ripe (yellow)

3 tablespoons almond, rice or soy milk

2 teaspoons pure vanilla extract

1/4 teaspoon salt

1/3 cup dark chocolate chips, mini or regular (optional)
Instructions:
To make the crust, add the crust ingredients to a food processor and process until a ball of dough forms, stopping and scraping the sides of the bowl. Start with a few tablespoons of almond milk and add more if necessary to bring to a desired consistency. Be careful not to over process the crust into a nut butter. Transfer the dough to a 9" pie dish and flatten on the bottom and sides with your hands to make a pie shell. You can make a pretty rim using the fork.

Give food processor a rinse, wipe with a towel and add the filling ingredients. Process until smooth, pausing and scraping the sides of the bowl. Pour filling into the prepared crust and smooth the top with a spatula. Sprinkle with chocolate chips (optional), cover with plastic wrap and freeze for 3 - 4 hours or until frozen. Thaw on a counter for about 30 minutes before slicing and serve.
Nutritional Information:
Serving: 1 slice

Calories: 381.9

Fat: 26.5 g

Cholesterol: 0.0 mg

Sodium: 158.6 mg

Carbohydrates: 27.9 g

Sugars: 15.5 g

Fiber: 3.3 g

Protein: 10.7 g