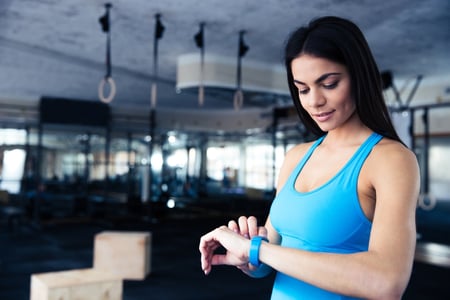 With so much going on around the holidays, the last thing you want to stress about during a time of joy and merriness is the almighty gift-giving dilemma! Worry no more, friends. With this sure-to-satisfy gift guide, you'll take away the guessing game of finding that perfect fitness gift – gear, accessories, music, training and more – for the fitness fanatic in your family or circle of friends.
Fitness Gadgets
Just as the popular fitness product retailer says, "give the gift that keeps on walking and running!" With products available at all fitness levels for everyday fitness to active or performance training, there is a Fitbit device that will fit everyone.
Fitness Gear: Clothing
Our very own Pilates instructors highly recommend all things clothing from one of her favorite brands, Lululemon. Everything from the Wonder Under Crop workout pants to the patterned Cool Racerback workout tanks, and the breathable Tracker Shorts to the lightweight In Flux Crop top … you can't go wrong with Lululemon gear.
Fitness Gear: Shoes
Some favorites among the personal and group fitness trainers here include the neutral and lightweight Saucony Kinvaras running shoe, bright-colored Nike Free running and training shoe, and the Hoka Running Shoe for additional support on your knees for running outdoors.
Fitness Gear: Exercise Mats and More
Exercise mats come in all shapes and sizes perfect for just what your fitness fanatic is looking for – yoga, strength training, stretching, Pilates or more, a exercise mat goes a long way in a fitness routine. Add a few weights or exercise balls for a little extra something special.
Fitness Accessories
Although not an absolute must-have, these fun accessories are known to amp up a fitness regimen for added inspiration and motivation. Comfortable, wireless earbuds are great for those who don't want strings attached during their workouts, and easily accessible gym bags are great to store and carry all the other fitness gear to and from workout sessions.
Music
Let the beats drop this holiday with the gift of fitness-inspired tunes to get the heart pumping and your body moving! Offer a gift card to iTunes or another music source for an open library of music selections. Or for some song ideas, check out our own trainer Jeff Howard's music recommendations.
Personal Training Sessions
Didn't think we'd forget about this one, did you! One of the fastest, easiest and most successful ways to improve your health and fitness is to work with a personal trainer. Choose from one-on-one sessions or small-group training sessions for that special fitness someone in your life.