Preparing the body "not only for the known, but also the unknown" is the mantra for CrossFit, one of the fastest growing strength and conditioning programs today. CrossFit "boxes" are popping up all of Louisville. But, what is CrossFit? And, how can CrossFit benefit you? CrossFit is an intense, full-body workout that combines elements of cardio, weight, gymnastics, core training and more to prepare the body for the unexpected. The following a few of the many benefits of CrossFit.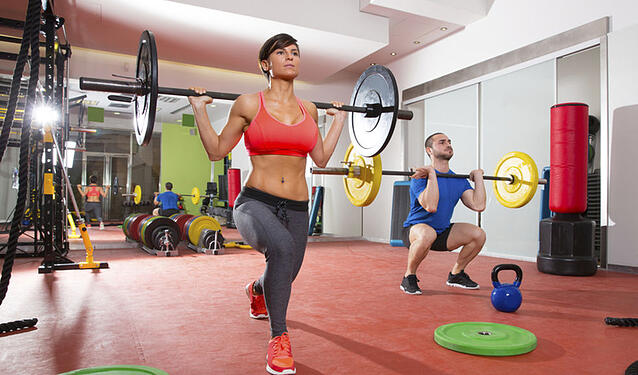 CrossFit Helps you Save Time
People have thousands of excuses for why they can't workout, the most popular being a lack of time. That's why CrossFit is a great option for so many people; the workouts accomplish a lot in a short period of time. More and more research shows that shorter duration/higher intensity workouts yield greater benefits and results. CrossFit workouts lengths will vary from workout to workout and will depend on your skill level. Most CrossFit "Workouts of the Day" can be completed in under 30 minutes.
CrossFit Works the Whole Body
CrossFit combines strength training, explosive plyometrics, speed training, Olympic- and power-style weight lifting, kettle bells, body weight exercises, gymnastics, and endurance exercise. By doing this, CrossFit targets the major components of physical fitness: cardiorespiratory fitness, stamina, muscular strength and endurance, flexibility, power, speed, agility, balance, coordination, and accuracy. The main CrossFit exercises involve the whole body and include pushing, pulling, running, rowing, and squatting. Working your entire body will also help you lose overall body fat while gaining muscle.
CrossFit Adds Variety
Everybody gets bored especially if you're used to doing the same thing every time you go to the gym. Not to mention, doing the same thing forever, is less likely to yield the results you're looking for from a workout routine. CrossFit format is WODs (Workouts of the Day). The WOD changes daily and there are lots of them. You will notice that you are not likely to do the same workout over a 6 month period.
CrossFit St. Matthews at Baptist Health/Milestone Wellness Center offers the 1st CrossFit class for free. Come give it a try and see how CrossFit training can benefit you and your body and add variety to your fitness routine!