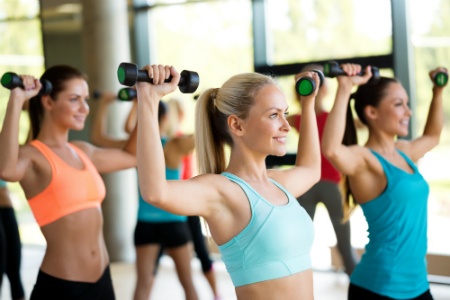 When you want to lose weight, a fitness class is the perfect way to reach your goal. So what's the secret to weight loss? Classes that torch calories, increase your strength, and that keep your metabolism revving long after you've left the gym.
The best part about the fitness classes at Baptist Milestone? Enough classes to keep you interested, motivated, and having fun. No one ever said losing weight had to be boring.
Wondering what the best fitness classes for weight loss are? For the ultimate fat burn, you'll want a class that offers one of the following:
1. Get Fit with HIIT
High Intensity Interval Training exercises (HIIT) are designed to give you maximum results in a minimum time. HIIT-style fitness classes provide one extraordinary benefit for weight loss: they boost your metabolism for hours and hours after your workout is over. Just by taking one interval class, you can continue to burn fat for the rest of the day. Interval classes feature short bursts of intense activity, followed by a slower recovery period. Here are some of the ways you can enjoy the benefits of a HIIT workout at Baptist Milestone.
Double Trouble:
It might sound like trouble, but Double Trouble combines a Power Ride set of intervals designed to crush calories and accelerate fat loss with a Boot Camp to target your problem areas. The combination of Power Ride and Boot Camp gives you the best of all weight loss classes rolled into one fat-burning workout that really turns up the heat.
Shred:
A full hour of non-stop interval training that includes cardio and strength training. Shred is the perfect class for all fitness levels. You get the incredible benefits of interval and strength training in a relaxed environment that allows you to tone and define at your own pace. Sculpt beautiful muscles and boost your metabolism with Shred.
Tabata Bootcamp:
Short on time but still want to lose weight? Tabata is the interval workout for you. Tabata workouts are designed to give you the maximum amount of benefits in the shortest time possible. Tabata Bootcamp offers the newest and most unique approach to HIIT in the fitness industry! What can you expect from a Tabata class? To improve your cardiovascular and muscle systems, and set your metabolism on fire for a full 24 hours after this short class.
2. Cardio Fitness Classes for Weight Loss
Weight loss often comes down to one simple equation: burning more calories. When you want to crank up your calorie burning potential, you might as well do it in a fun and festive group fitness class with other people who share the same calorie-torching goals. Here's some ways to crank up your cardio.
Cycling the 500 Calorie Ride:
A dynamic cycling class geared towards burning 500 calories in a fun group. This challenging ride includes hill-climbing, cardio intervals, and active recovery periods that add up to a big calorie loss. Burning 500 calories was never more fun.
ZUMBA:
Weight loss has never been more exciting than it is in a ZUMBA class. This fun,high energy, fat burning class will have you dancing to Latin and exotic rhythms that tone and sculpt your body. You don't have to be an experienced dancer to get the body you want; these easy to follow dance moves are perfect for any level.
3. Fitness Classes that Sculpt and Slim
Many people think that only cardio can get them to a slim and sleek shape, but building strong muscles is an effective way to lose weight fast. Muscles burn more calories when you are resting, so the more muscles you have, the better your metabolism will perform all day long. Strong muscles will also help give you the shape you've been dreaming of. Here's how you can sculpt your way to a sleeker, thinner self in one of our fitness classes.
Pilates Strength:
Come invigorate your mind, strengthen your core and condition your body using the principles of Pilates. This class will take you through everything from core strength to overall body conditioning; everything you need to achieve "Pilates strength."
P.U.M.P.:
What do you get when you P.U.M.P? Producing Unlimited Muscular Performance. Hand-held weights, bands, bars and other equipment will challenge your body while strengthening your core. A creative class that uses a variety of equipment to pump you up, P.U.M.P will increase both isolated and integrated strength to get you the body you've dreamt of.
Body Breakthrough:
When you want to bust out of your old body, build the best version of you possible, boost your fat-burning potential, and rev up your energy, Body Breakthrough is the fitness class to try. An intense total body workout designed with progressive full body strength training and choreography that will leave you moving, grooving, and sweating. When you want to define and tone every muscle and improve your strength and performance, this is the breakthrough you've been looking for.
The best way to lose weight with a fitness class is to find one you enjoy. With the variety of classes available to you at Baptist Milestone offering verything from interval training, strength training, sweat-producing cardio, dance classes, yoga, pilates, and more; you are sure to find a class that brings you joy and keeps you coming back for more.